We at 'Walk with Donkeys' would like to wish all our supporters a very happy new year. We would also like to wish all the animals, especially the donkeys, a year when attitudes towards them will change for the better.
We have been very happy that we have made so many new friends around the world via the internet, especially with our facebook page WalkwithdonkeysCrete and our websites
www.walkwithdonkeys.com
and
www.donkeycarecrete.com
We are astounded by the generosity of people who wish to help us to help the donkeys here in this little corner of Crete. Every euro makes a difference and if it wasn't for your help we would not have been able to give a new home to our two latest donkeys (Boots and Coconut). This brings our total to 10 donkeys living here with us.
Both donkeys are very happy in their new home and Coconut is able to get treatment for his arthritis and general joint stiffness.

This autumn Alistair was very busy and singlehandedly built a new stable and fenced in a small area so that the four 'golden oldies' can live together without the bullying of the younger donkeys.
Alistair also renewed a section of fencing from the other run which had been demolished. This was with the help of young Loukas who insisted on stealing the wire cutters and anything else he could get his lips around! But we are hopeful that the risk of the donkeys escaping into our neighbours vegetables is now diminished.

We have received a consignment of new headcollars and have started distributing these to the donkeys in need in the area. This will be continued as part of our outreach programme at the end of February when we hope to be able to provide treatment to many of the 30 or so working donkeys in the village of Males and the 12 in Kalamafka. Our donkeys have also benefitted from this. Here are two pictures of Tessa, the left one is when we first got her with her chain that was cutting into her nose, and the second a happier donkey!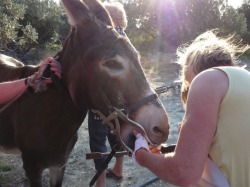 We have been trying to help other donkeys in the area who are really in need. We have supplied equine butazone to try to relieve the pain that this donkey is in. We have asked the GAWF equine expert to telephone the owner to explain that this donkey is now in need of euthanasia, (she treated it last year). Unfortunately at the moment the owner will not do this and wants to wait until the vet comes in February.
I would like to thank everyone individually for their financial support but this is not possible so
'a very big thank-you'
(you know who you are!) Please encourage other people to support us in whatever way it is. One of our most unusual donations came from a talented lady who knitted donkeys and sold them to raise money for us.
We are still wanting more recipes for a cookery leaflet that is being produced by one of our supporters in the uk . Please send recipes to me at
info@walkwithdonkeys.com
Buy an exclusive 'walkwithdonkeys' T shirt. Do your Amazon shopping via our website or just make a donation via paypal or bank transfer (How about an after christmas sponsored slim?!)
Just
please
help these donkeys.
Thank you
Alistair and Suzanne