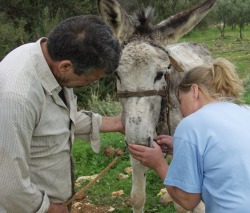 Following our previous news(click on 'news' under blog) on this poor donkey, matters have progressed a little.

Having originally agreed that there was only one course of action, Manolis, who took the donkey from his uncle changed his mind and thought that with a little cutting of her hooves she would be alright. The facts are that she is an old donkey, with major problems causing her great pain and excluding her age, if she was to be treated it could only be in an equine hospital, taking many weeks and costing a great deal of money.

A factor here in Crete is that it is thought to be dishonourable to euthanize a donkey, but to let it suffer and perhaps be starved to death is better – obviously it is difficult to argue against that deeply entrenched belief system.

Thankfully our vet in Ierapetra is a caring man and he agreed to come with me (Alistair) to see her to judge for himself. I think that despite us telling him about her condition and him seeing photographs he was shocked to see her. This time she was at least tethered on a longer rope and could reach food.

She can hardly move and lifts each back leg in turn, indicating that she is in considerable pain.What to do next. The vet can do nothing without the owners permission. The municipal vat is authorised to take action without permission, but as was explained to me, although I already know this, we are a small community where everyone knows everyone else and do not want to offend. So it may be the law, but….

Our vet Michalis Spiridakis, will speak to the owner to try to convince him that there is only one course of action and Elisa Geskou, the equine specialist from GAWF will see her, if Gianoula is still around when she comes later in February.

She is a heartbreaking sight, but Michalis has become involved without payment and is trying his best to convince the owner that she must be freed from the pain.

Anyone reading this, I suggest, should remember that cruelty does occur everywhere and while we would all like animal welfare to be of the highest standards it is not always possible. Do not think badly of all people here. As Michalis was telling me, in his 15 years in practice he has seen vast improvements. Not lots dogs coming into his surgery every day having been poisoned. Local people with pet dogs and taking the greatest care of them. There is a long way to go, but animal welfare has improved vastly. We hope that in some small way we can help with that process.

Manolis is a kind man with 3 other donkeys, it is impossible to agree with his view, but I can understand, just, but not accept, why he wants her to survive.

Lets hope that he can be helped to make the correct decision.

We will continue to visit Gianoula, and try to ensure that she has pain killers as a minimum and hopefully a final release from her misery. She has had a long hard working life until recently she needs to have a dignified end.