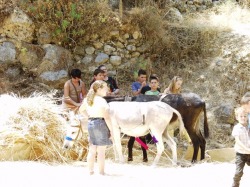 As part of Ierapetra's Kyrvia festival, the Kalamafka Syllogos organizes a day celebrating the cycle of bread making which includes lots of food, traditional music and a demonstration of threshing of the barley in an Aloni, using 2 donkeys.

Last year,we went along to see and enjoy the day. However due to the appalling treatment of the donkeys – beaten with large sticks by a number of the men and bleeding legs and mouths, from badly fitting equipment, the experience was far from enjoyable.

We published photographs on our website, and asked the Greek Animal Welfare Fund to make representation on our behalf and we resolved to do something about this cruelty to ensure that it was not repeated..

Initially we spoke to our vet, Michalis Spiridakis who is a councillor in the Dimos of Ierapetra and a member of the Kalamafka Syllogos, but because of other commitments on the day, he had not been aware of the problems – but he agreed that something definitely had to be done, especially when we showed him photographs of how the donkeys had been treated.

An article also appeared in the Kathimerini magazine

A number of discussions were held to formulate a way forward, culminating in a meeting with the participants prior to this year's event to resolve the issues and ensure that no repeat of the previous year would happen.

It transpired that a number of members had been upset by what they saw and a number of children had been most upset and in tears, so there was a will to do more. The syllogos wanted to present the very best of animal welfare to visitors and were totally open to suggestions.

Even on the day of the event, further discussions were held and a formula was agreed that;

1.Only people directly involved with the donkeys would work with them during the day.

2.No sticks would be used to induce the donkeys to perform.

3.A weight 'limit' of 2 or 3 small children being towed on the board was agreed.

4. The donkeys should have adequate rest, food and water breaks.
The Aloni demonstration was a wonderful event and from the outset, we were approached by many members of the syllogos who thanked us for helping in guiding them on the way forward. The participants were proud to be involved in such a splendid display, one man even went as far as to say that he would not be beating a donkey in the future – he would only beat his wife!!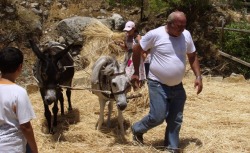 We know both husband and wife and you an be assured that this was a pure joke.

So, while many people call for the laws to be invoked, police called etc -.it can be that with sensitive communications, delicate pressure, showing people the past evidence they can be encouraged to see and agree that they do not want to be part of a spectacle which upsets people and causes offence.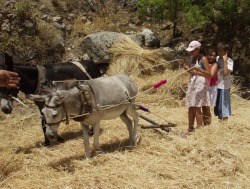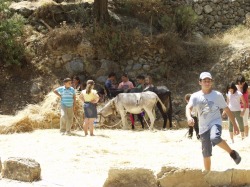 Well done to the people of Kalamafka, and a big thank you to vet Michalis Spiridakis who was instrumental in ensuring that this years' event would be acceptable to all visitors.