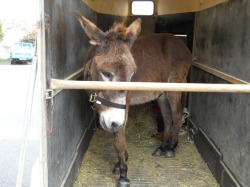 Some weeks ago we had a phone call from friends living near Limnes to say that a friend of theirs said that his parents had a donkey and as the father was now ill they wanted to get rid of it. So we set off to see the donkey which was more that an hour away. Just as we set off we had another call from the friends to say that mother had decided that she wanted to keep the donkey.

On Saturday we had a call to say, yes the donkey could come to us, so we agreed to collect it in the trailer the following day, so we set off in convoy to this remote village east of where we live. Yiannis's father had a stroke and as his mother is 86 they decided it was best that the donkey should come to us. After meeting the donkey, now called Bobby, we went to mother's house and had some delicious food and their own excellent krassi (wine). Then the process of loading Bobby. We have learned that a donkey likes to see first what you are asking it to do, then, it will be alright, without pushing and pulling. They also quickly balance themselves in the trailer.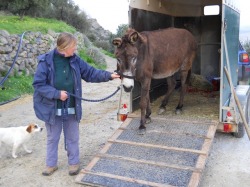 Here he is being unloaded with Mia in attendance (the dog). Mia was dumped near us 2 years ago when she was pregnant (Timmy is her son).She lives with the donkeys and she was keen to make friends with the newcomer.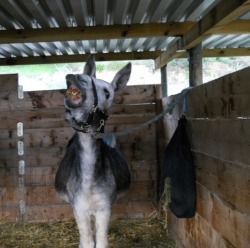 A little later we took Bobby into one of the stables to meet Beauty and Dora who have only been with us for a week – the photograph above shows Dora smelling the newcomer. The next day they were all friends and first Bobby had a roll and a canter round the terrace – he has probably never been free to run before.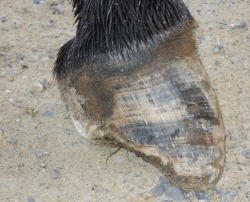 Now the treatment begins. As you can see from the last photo he needs remedial work on his hooves. This is the worst one. He will settle in for a few days to get used to us, then Aris the farrier will come and start the treatment. Although we have been taught how to keep the donkeys hooves in order, we do not risk working on badly deformed hooves like this in case we make matters worse.

Bobby had been well looked after by his owners, who had used him to work until a few weeks ago. Being in a remote village they would not know that there was a fully qualified farrier based in Crete.


Later this month we have a specialist equine vet coming whose visit is undertaken by the Greek Animal Welfare Fund and paid for by The Donkey Sanctuary. During this visit we treat working donkeys in the surrounding area, so those few days will be very busy feeding, cleaning etc. the 16 we have, driving round the villages to find donkeys and advise the owners when the vet and farrier will be coming.

As you can imagine, what we do comes at a price and Crete is now a very expensive place. Hay which we feed the donkeys costs 12 euros a bale here compared with 3 in northern Europe. If there is any way you wish to assist please contact us.


Alistair