As ever, entering a new year is a time for review as well as looking to the future.

I was going to do a review of 2010 and realised that it was old news and inevitably I would miss out more than I could include. One or two items though. With the number of donkeys increasing we have extended the stable accommodation to over 100 square metres. We took in Mr Jansen, a mule so had to build a separate shelter for him while he settled in with the others. Mules are different from donkeys so we have to be very careful during this period.

Thanks to the generosity of people in America, who we had never before had contact from, we were able to fence in the whole of the field where the donkeys are kept, so that when they are out of the stables, which is every day, when the weather is fine, they are free to roam. Indeed we are indebted to our many followers and supporters, who in these difficult financial times continue to support animal welfare.

You maybe cannot imagine the pleasure it gives us to see these donkeys who have always been tethered, running free when they come out of the stables, even the more fragile ones.

Since the start of this year we had 2 requests to re-home donkeys, both of which we have done. One has been seen by many tourists, she is Dora from the Olive Oil Farm in Agios Nikolaos, who demonstrated the pressing of olives the old fashioned way.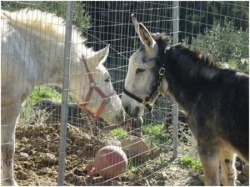 Dora meeting Mr Jansen, Mmmm quite like him!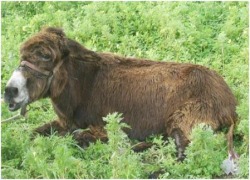 Beauty came from people we know and when we went to collect her we were shocked at her condition. She was lying down and had the greatest difficulty getting up. Had we known we could have taken pain killers which would have relieved the pain very quickly.

When we got her back to the stables we gave her painkillers while she was in the trailer which made it easier for her to get out. In the stable we then examined her and discovered a bad abscess in one hoof which we started to treat immediately. This requires daily cleaning and dressing.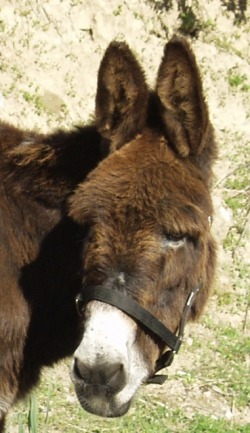 Now while she is still wearing a silver shoe, of duct tape, to cover the dressing she is very lively and looking very different from the donkey who came less than two weeks ago.

Yesterday we hoped that Aris, the farrier, would come to treat 3 donkeys who need some remedial work on their hooves, but his workload in the area was too much. He phoned to say he would come on Monday. Aris comes with the GAWF outreach programme but also comes when he is in the area. He refuses payment, so we reached an agreement that he would have some fresh eggs from our chickens. Hope to include news of this visit in a day or two.