We never had any intention of keeping dogs at the sanctuary because we do not have the facilities (kennels) or any funding or help with cost of feeding. But of course it is impossible to refuse ones that arrive on the doorstep!

We now have 7 dogs, 4 live in the village with us, 3 in the house and one on the terrace. They travel every day in the car with us to the horses field and to the sanctuary where they have a great time playing with the other dogs.

The dogs that live at the sanctuary are:' Mia - left at a neighbours shed to have her puppies - all but one of the pups disappeared.

Doozy, a beautiful hunting dog - we actually saw the car that dumped him but were not quick enough to get the number plate.

Lucy - the latest dog to live with us - she was born to another neighbours barrel dog last summer, her 2 siblings are tied up but she is free and now lives with us.

We do not have kennels but the dogs like to live amongst the hay, in the shelter.

Thanks to the help of other organizations in the area we have been able to neuter all our dogs.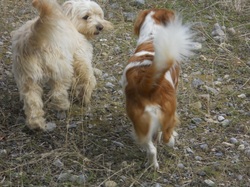 Teddy (found under a rubbish bin) and Timmy (one remaining puppy from Mia) are on the look out for trouble