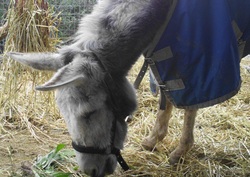 Gaia wrapped up to keep her wam
Still in the process of catching up on posting information, at the beginning of November we were asked by a friend to take a donkey. She was with a companion but her companion was sold and waiting collection. Gaia, as we called her is old and very skinny and saw very quickly that she had problems eating. Also she very quickly became depressed and was obviously missing her companion, they had been together for some time.
So we went to see the owner who is a good man and said we wanted the other donkey, explaining why. We paid him a little, which we thought was fair as he had sold her. So, Isabella joined Gaia and both seemed happy.
They have both been at a tourist attraction for some time before for some time and obviously bonded but needed medical treatment.
Isabella's hooves were very long and obviously had not been trimmed for some time so we arranged for the farrier to come quickly to correct the situation.
The next task was sorting Gaia's teeth problem, so Nikos a vet specialising in equines came. Although he lives in Thessaloniki he is from Ierapetra, which our local town, so we pay his expenses and he can visit his mother and grandparents.
Gaia needs a lot of work done, so Nikos started the process but only so much can be done in one session to avoid distressing the donkey.
She is much better but will need ongoing treatment. She was so thin that it will take some time to see if there is any improvement. In the cold of the winter she has a rug on to keep her warm. She has been eating a little better but it has concerned us that she does not seem to be putting on weight. She deteriorated over 2 days and one evening we found her lying down and unable to get up. We delivered appropriate medication and because she is so light we were able to lift her up and in a few minutes she was standing on her own, if a bit wobbly.
We later found in the feed a broken tooth which may have been making it difficult for her to eat. Since then she has been eating very well and getting special treats, because of the cold we keep a rug on her and she seems to be improving but early days still.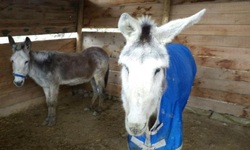 Isabella in at the back with Gaia