With our workload it has been very difficult to update the website as we would have wished, but we hope that now we can and thought it best to start with some recent news, then catch up on the rest. 2012 brought us new donkeys and inevitably some left us.
Our Christmas was very muted as one of our long term residents left us. In the morning of Christmas Eve we arrived at the sanctuary to find Mackie lying down in the stable and it became obvious that she was not getting up.She was our third donkey and had been with us for 6 years.
She was not distressed, and having tried to see if she could stand up we had to call the vet. Unfortunately being holiday time we then had to wait until after the extended Christmas holidays to bury her.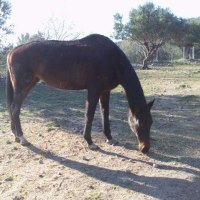 That was a busy day which started very early with the arrival of the digger and finished very late with the arrival in the dark of 2 new quines..We had expected these for some but transport was a problem. When the trailer door was opened there was tiny Tsuli the Mini Shetland and towering over her Litsa the thoroughbred ex-race horse. Tsuli pronounced Julie has a leg problem which will be seen by an equine vet very soon. Both need a great deal of care to return them to top condition. They were saved by a rescue organisation for dogs who did their very best to ensure their recovery from horrible situations and it was decided it was best that they come to us.
They are separated by a fence and share a divided stable until we assess how safe they are together. Tsuli is on a diet to lose some kilo's. Litsa is on specialist horse feed to put on condition and is responding well to training. Unfortunately we had to treat a damaged hoof and she behaved beautifully.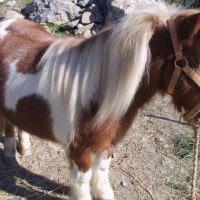 Tsuli before the rains and the mud.
Both will be seen soon by an equine vet to check their condition and establish if Tsuli needs any more attention to her damaged leg.