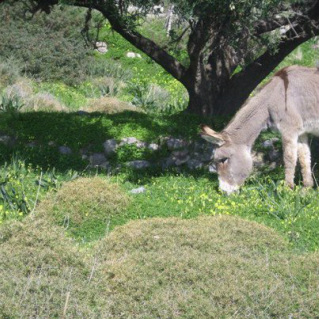 Christy in his favourite field on the day he left us
While caring for these wonderful animals is very fulfilling there are obviously bad times, when one is ill for example and the most challenging time is when one leaves us. We have already lost 2 in recent months and yesterday we lost Christy.
He came to us from a local village when his owner no longer needed him as a new donkey had been bought and Christy was very old. He was a beautiful donkey with attractive colouring and striped legs. His character was very calm, very friendly and would often be the first to greet us when we arrived at the sanctuary.
We estimate that he must have been around 40 years old. He was quite skinny and nothing we could do would put condition on him and specialist vets had seen him over the time we had him - between 1 and 2 years - they could find nothing wrong.
We noticed over the last few days that he was quieter and a 3 days ago we found that he had fallen and was not trying to get up. We helped him up and he was fine but quiet. One of his treats was to go into the next field where the grasses and wild herbs were plentiful.
2 days ago he was waiting at the gate to go in with 2 friends and he seemed fine but quiet, but nature was taking its course. In the afternoon we were bringing them in but could not find Christy, he had taken himself off to a quiet place surrounded by bushes and that is where we found him. He was still barely alive but not struggling and although he did not seem to be in pain we injected him with painkiller. He died shortly after.