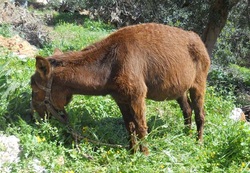 OK, very silly name, but there is a reason for it - read on...
We were asked if we would take in a male donkey in need. The owner could not use him and after the spring passed and there was nothing to feed him he could not afford to keep him. So first we went to see him in a village near Kritsa and found this sad looking donkey who obviously had a problem with his back. We realised that he was suffering from Roach Back which restricted his mobility.and we agreed to return with the horse trailer to collect him.
A few days later after a short delay to have the car serviced we returned and loaded him in the trailer quite easily. Normally donkeys in the trailer turn during the journey to face the back, but he did not. Arriving at the sanctuary we realised that his back was so stiff that he could not turn in the restricted space and we had to reverse him out and into an area of the sanctuary where he could be alone to settle in for the first night.
Because of his roach back we decided on the silly name of Engelbert Humperdonk after the composer and the pop star of the '60's
We had been told that he was male and did not bother to check until at the sanctuary we determined that he was a she so she became Angel.
Her back obviously causes her problems and she cannot lift her head as high as normal.
We had 2 days in the clouds, meaning the atmosphere was very damp causing her obvious pain, which we treated and she recovered well.
She is now settling into her new life with us and out with the other donkeys. Despite her years she was able to attract the attention of young Loukas in the next field and she did behave like a tart.
Initially she was not happy if we went near her, but now she comes for cuddles and mixes with the other donkeys, so we hope she will enjoy her time with us.