GAWF EQUINE REPORT FOR 2011

From 24th of February to 1st of March, Elisa Geskou and Aris Vlachakis once more visited several areas of Crete to treat working equines in need of help.
We went to the same villages where we have been before, as well as a few new ones, and during the five days we covered a distance of around 1.000 kilometers.
In total, we treated 81 animals… 60 donkeys of various ages, 9 horses, 5 ponies and 7 mules.
Sixty eight of the equines received dental treatment. We found some animals with very sharp edges that were causing ulcers, and others with upper premolar hooks, ramps and misaligned teeth. We also found several cases of parrot mouth. Lots of old animals were seen with wavy, stepped mouths, and some had teeth that were either completely worn down or missing.
Four loose molars were extracted, with two particularly significant cases among them. In one, the owner of a donkey in the village Kalamafka, had reported his animal's loose tooth to us a year ago but, for some reason, he hadn't allowed us to remove it last time we were there! This time he came himself and asked Elisa if she could remove it, which she happily did, helping the donkey to chew normally – to the satisfaction of the owner!
Happy donkey owners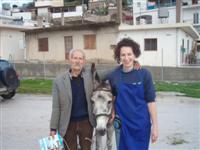 The other case was more serious, as the donkey had nasal discharge from one nostril and the lady owner from the village of Males complained of a horrible smell from its mouth since the summer, and the donkey having difficulty in eating. Elisa opened the mouth and found a huge, rotten, loose and very sharp tooth, as well as very sharp teeth everywhere else in the mouth, all of which was causing a great deal of discomfort to the donkey and not allowing it to chew normally. The tooth was extracted and the donkey was obviously relieved; it was also vaccinated against tetanus and received antibiotic treatment for the next few days to deal with its sinus infection.
Thirty seven equines received farriery treatment. Eight of the animals had long feet. Two were found with old abscesses, various foundered, five with boxy feet, and one with severe thrush on the sole and frog.
---


We would like to thank Suzanne Barbour and Alistair Paton from Anatoli, who not only organised our visit to the area of Ierapetra but visited every day and injected the antibiotics to the donkey in Males with the sinus infection at their own expense. (They visited the lady in Males even on the day when there was a snow and hail storm with thunder and lightning. The old lady was already out with her donkey, having walked a long way down a steep hill from her stable to the road, standing in the cold and waiting for them to come and do the injection!). Also thank you to the welfare group Friends of the Animals in Elounda who took us to visit a few animals in the north-east of the island. We are also grateful to Alistair Paton who let us use some of their photos. And of course many thanks to the Donkey Sanctuary for funding the visit for one more year; so contributing yet again to helping all these equines and their owners.
All of the people we worked with were most grateful for our help and expressed the fervent wish that we would come and see them again next year.