WALK WITH DONKEYS OUTREACH WORK



As well as looking after the donkeys that live at our sanctuary, we also visit other donkeys in the villages and help in whatever way we can.




Treating a village donkey with a foot abscess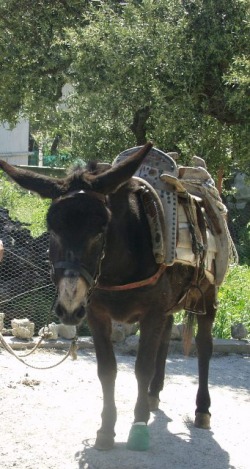 We were told by an elderly man in the village of Prina that his donkey was very lame. When they went to fetch her we saw that she was in a lot of pain and walking nearly on 3 legs. When we lifted her foot it was obvious that the abscess had already started to burst. We visited this donkey every day for 1 week to bathe and dress the foot. The owners were very patient for the first 6 days, but as soon as she stopped limping they started to work her again
---
A donkey with colic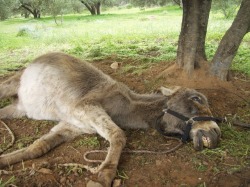 It was too late when the owner of this donkey called us to say his donkey would not get up. When we saw her it was clear that she had colic and we called the vet immediately. He did everything he could but this donkey did not survive.

The owner refused to pay the vet as he said it was our responsibility. The vet spent a good couple of hours and a lot of medicine on this donkey. He would not accept payment from us.

The owners refused to let this donkey be euthanased kindly and it was left to suffer incredible pain for a very long time


---
Treating a village donkey with a nasty skin condition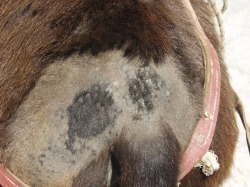 Whilst wandering around a nearby village, we came across this donkey with a very nasty skin condition. The owners did not know what to do.We visited regularly, bathing the weeping wounds and treating it with an anti-louse liquid. After a week or so we noticed a marked improvement and after a few months she is completely healed.






---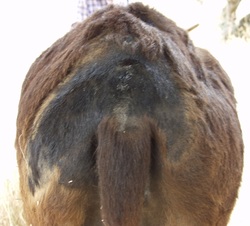 Village donkey with a big wound on his leg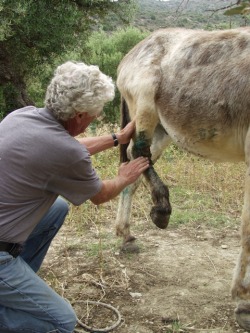 It was about a week after the donkey first had this injury that we received a message. We drove the 25 minutes to this village to see what had happened. It appears that this donkey had a fly bite on his leg and attacked it with a teeth making a horrible mess. We attended this donkey daily for at least 2 weeks and then realised that he has a more major problem with his joints and muscles.
Here you will find a
video
showing Suzanne and Alistair treating the donkey
---
Giving a two week course of antibiotic injections to donkey with severe sinus infection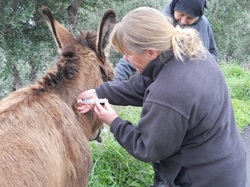 During the 2011 GAWF outreach visit to the village of Males Elisa the equine dentist extracted a rotten tooth from a donkey. The donkey presented with a streaming purulent nasal discharge and needed daily anti-biotics. After visiting the donkey for a week and administering penicilin the problem had not cleared. We had to purchase a very expensive alternative and administer another weeks worth, Thankfully this made the donkey better and the owner was delighted to have her working donkey back to full health.





---
Sometimes we just give new headcollars to the donkeys to make them more comfortable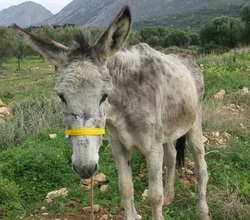 This poor donkey had a terrible condition called 'flexural deformity of interphalangeal distal joint'. We took a farrier and vet to her but nothing could be done. we gave her pain killers and the vet and farrier advised the owner to euthanase the poor donkey

---


'Dora' the donkey working in the tourist attraction olive oil farm.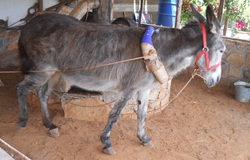 When we visited this donkey we found her suffering from fly bites and wearing a chain headcollar and heavy broken yoke around her neck that was beginning to cut into her neck. We visited the following week and took fly repellent, headcollar and padded the yoke to make it more comfortable until a new harness can be found.

---

Visiting a donkey in Pano Elounda who has tendonitis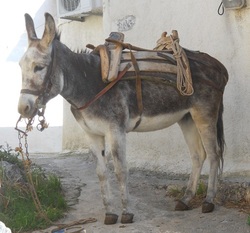 This donkey was treated by an equine vet in March. She is not any better as her tendons are contracting due to work and being tethered by rope on the canon bone. We gave anti-inflammatories and instructions as to other treatment, But the only real help would be total retirement


Visiting a donkey in Paleokastro near Sitia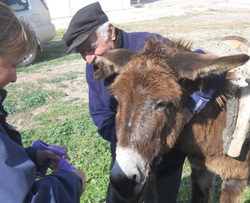 We were asked to visit this donkey as the 88 year old owner was worried as she had been lame. She was a lot better than expected but evidence of arthritic condition of the carpus. Advised the caring owner so that he can help her as they grow even older together!
We respond as quickly as possible to reports of donkeys needing help.

When treating donkeys we always use professional products made specifically for the problem in question.

If we are unsure about treatment we always consult an equine expert vet

We do not treat problems that should only be treated by a qualified vet




What a difference a year makes!

a huge step forwards in donkey welfare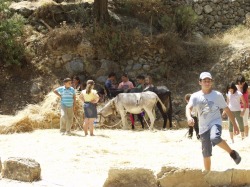 Kalamafka village 'Alonimata' traditional festival in August 2010. This festival is a celebration of the way that the corn used to be threshed, the grain separated from the stalks with the help of a couple of donkeys.

In 2009 we were appalled at the treatment of the donkeys. They had deep rope burns on their legs and were being constantly hit by heavy sticks.

Thanks to a letter written by the Greek Animal Welfare Fund (on our behalf) and a lot of communication with members of the committee, we are delighted to report that the 2010 festival was
a great success
The donkeys were treated well, respected, watered, fed and rested and as a result they gave children and adults a really good day out. The local children were especially happy to be able to stroke and talk to the donkeys, and ride behind them on the sledge used to thresh the corn





---
Donkeys and humans have an enjoyable day out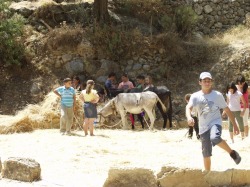 Thank you Kalamafka for listening and acting to improve the welfare of the donkeys.



---
Please help us to continue this work by pressing the paypal donate button on the right.

Medical supplies are also always needed





WORKING WITH THE GAWF OUTREACH TEAM


Every year since 2005 we work with the Equine Outreach Team of the Greek Animal Welfare Fund.We organise to take the farrier, vet and equine dentist to visit as many working donkeys as we can find. This involves a lot of work before the visit, meeting the owners and explaining (in our limited Greek!) how this expert team can help their donkeys. Reports of the last two visits can be found here.
2010 Gawf visit
.
2011 Gawf visit
There are still many working donkeys hiding away amongst the olive trees and we endeavour to treat as many as possible in the very short time available to us