We are Alistair and Suzanne. We moved to Anatoli near Ierapetra from the U.K. in 2004. Leaving behind a life of sitting in queues on the motorways of England Scotland and Wales we decided to take up olive farming on a Cretan Hillside.

Packing our worldly possessions, and two cats, into a car and small trailer we set off for our new life.

A few months after arriving we took on our first donkey - George. He is responsible for what has become a wonderful sanctuary for unwanted donkeys and horses of Crete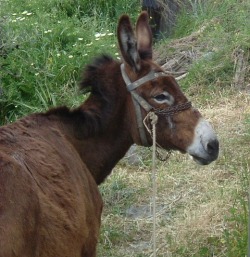 This is George with the headcollar that he had when we found him. Notice the chain just below the eyes
Whilst Alistair is proud to announce that before meeting Suzanne he had only ever had a goldfish, Suzanne was brought up surrounded by horses and ponies and was taught from a very early age how to look after them. This experience has proved essential for our work with the donkeys and horses in Crete.

We both attended a seminar hosted by the Greek Animal Welfare Fund in the special care of donkeys. Amongst other issues, this dealt with health care and foot care of donkeys. This was extremely useful and meant that we are able to help donkey owners in the villages if their donkeys have problems. We always work with the advice of our consultant equine vet.

The rest, as they say, is history. The locals think, quite rightly, that we are crazy but they are also willing to spread the word that these crazy people will take in unwanted donkeys and before long we had many donkeys eating us out of house and home.