DONKEY RESCUE IN CRETE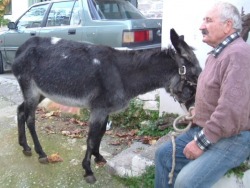 Greece does not have the best animal welfare record in the world and some of the reasons for this are tied up in the cultures and traditions of the country.



Here in Crete donkeys are still being used as working animals in the more remote villages. Here they ferry their elderly owners to the fields and back. They carry firewood, olives, grapes, vegetables and usually the owner as well. They do not complain and often have a good relationship with the man or woman who relies on them for this transport. But what happens when the donkey owner can no longer look after the donkey, or the donkey becomes old and not so useful for work?


"it is the traditional way" explains a Cretan friend to me as I cry my disgust and shock at what I have just witnessed. "They used to take them higher in the mountains and push them off a cliff, at least that way the donkey died faster."


I had found my neighbour's donkey tied up a short walk from the village. It was a scorching hot June day. The donkey was tied so tightly that it could not move, eat and had no water. But by the time I found it it had only minutes to live and there was nothing I could do but sit with her while she passed away. Donkeys can take days to die in this way and it is an extremely cruel lingering death. But it is the 'traditional'way and you may still find carcasses if you are wandering around the hills.


In the lower regions of the forest of Selakano there is a colony of Griffon vultures. We were birdwatching there one day when I decided to explore what looked like and old house a few metres from the track. Here there was a rope tied to a tree, an old headcollar a pile of bones and skull but most upsetting for me was the complete donkey leg with hoof, still covered in soft brown hair. The vultures obviously had not finished their work with this carcass.



But there are many more instances where healthy donkeys have disappeared and the owners have told me that they have died. Not without a little help I fear.



We are asking for support, moral and financial so that we can help these donkeys and give them a dignified retirement where they are loved and cared for. As we are not yet a registered charity we find difficulty in finding help for this project. The larger charities are not willing to help and close their eyes to the fact that as there is no donkey shelter here the donkeys will suffer a slow and painful death


---
tied up to die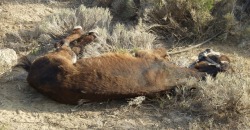 Too late for this poor donkey



We have given shelter to many donkeys whose owners cannot look after them. We are lucky that these owners cared enough to ask us to take their donkeys. Albeit that one was left tied up on our land and we were blackmailed into taking a few more.

"if you don't take this donkey I will shoot her."



But there are many more instances where healthy donkeys have disappeared and the owners have told me that they have died. Not without a little help I fear.



We are asking for support, moral and financial so that we can help these donkeys and give them a dignified retirement where they are loved and cared for. As we are not yet a registered charity we find difficulty in finding help for this project. The larger charities are not willing to help and close their eyes to the fact that as there is no donkey shelter here the donkeys will suffer a slow and painful death.



Please help us to stop these deaths.

---
Dying of Colic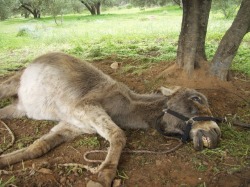 The owner would not pay the vet to come and see the donkey. We called the vet in and he tried to save her but unfortunately she was too sick.

---
Painful abscess on foot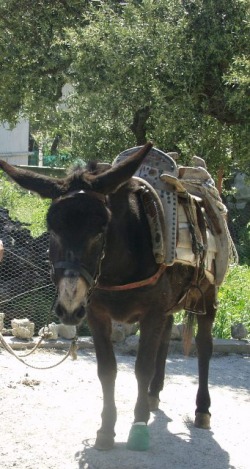 This donkey was seen walking along the road in a great deal of pain. She could hardly put her foot on the ground and was trying to walk on 3 legs. We stopped to look at her and investigated her hoof. She had an abscess. We travelled to this village every day for 1 week to treat this donkey, giving pain killers where necessary and bathing and dressing the foot. The donkey is now better and working again.

The owners were very happy that we could help them as they did not know what to do.

---