PLEASE HELP US TO FEED AND CARE FOR THESE RESCUE DOGS BECOMING A 'VIRTUAL' PARENT. YOU CAN PAY MONTHLY OR YEARLY INTO OUR CHARITY PAYPAL ACCOUNT.



BECOME A VIRTUAL PARENT TO ONE OF OUR RESCUE DOGS.

Some of our dogs will stay with us forever and some we find new homes for. Some of our dogs now have wonderful families and homes.
Please help us to feed and care for the dogs at the sanctuary

WIGGY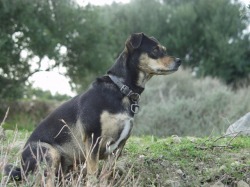 So called because her tail never stops wagging. Spitha (another of our dogs) found this little puppy under a tree in a field. We took her home and she and Spitha became great friends. Sadly Spitha was poisoned and poor Wiggy grieved for weeks. She lives in the house with us as part of our family.

---
MR RED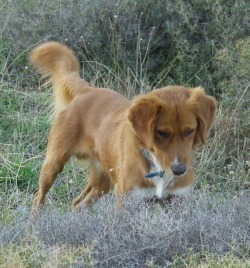 This dog used to sit under a tree next to the road as if he was waiting for someone to come back for him. We left food and water for him but he would not let us near him. A few weeks later he moved up to the village and killed some of our chickens. We were still not able to catch him. One day we found him falling into the stone water trough in the village. He had blood on him and it was obvious that he had been shot. We bathed his wounds and then he ran off again. Months later he started following us and then moved up onto our terrace. He is blind in one eye after the shooting but is now a wonderful dog. He is getting old now and struggles with joint problems which he takes regular medication for.

---
MAMMA MIA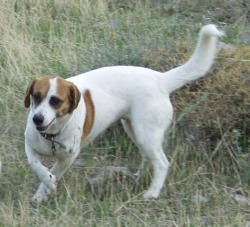 Mia left in an outhouse near our stables where she gave birth to 7 puppies. One puppy was still born and five of them disappeared one day (presumably taken away and dumped). Because she was not getting fed by the owner very often we fed and watered her every day. She and her baby started to follow us and eventually decided they would move house and live near the stables.

She is now a very happy dog and spends all her time looking for mice in the bushes by the stables
---
TIMMY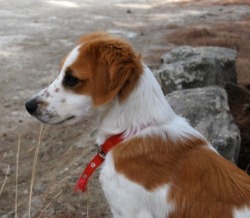 Timmy is Mia's baby and a real character. He is a very lucky dog as he has never known cruelty having only met ourselves and our visitors who used to carry him around when he was a baby. He lives in the house with us as part of the family. In the spring of 2010 he got hit by a car (he was chasing the wheels) but we were very lucky that the vet was able to mend his dislocated hip and he is ok now.


---
Teddy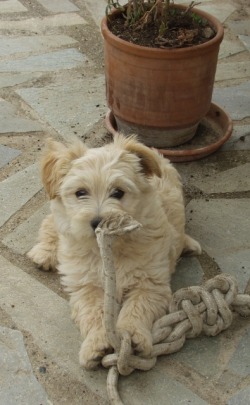 We found this tiny puppy sitting under a rubbish bin on the road to Kalamafka. Fearing that he would get run over by a car we brought him home and vowed to find him a new home. Of course everyone that saw him thought that they wanted him but a couple of offers fell through when the people changed their minds. So we have decided to keep him as he is a wonderful playmate for Timmy. He was born early in 2010.

Teddy now lives in the Isle of Wight with his new Daddy.

---
DOOZY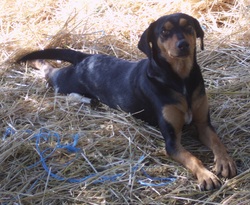 Doozy was left at the sanctuary in October 2011. We saw the car that had thrown him out driving fast up the track. he is a beautiful hunting dog and lives at the sanctuary where he will stay for the rest of his life.

---
HARI
Hari was brought to us by some tourists, they had found him all alone and starving in a remote place. After treatment for ticks and worms, he is growing into a very healthy boy - and a big one! He stays with us in the house.

DOGS THAT HAVE CROSSED THE RAINBOW BRIDGE

BORIS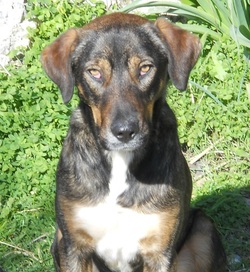 Boris arrived in the area of the sanctuary in late January 2013. he is very nervous but slowly decided to move in with the other dogs. He curls up in the hay with them. He has had the 'all clear' from the vet who says he is about 1 1/2 years old.


Boris ran away one day and we found that he had been poisoned.

---
LUCY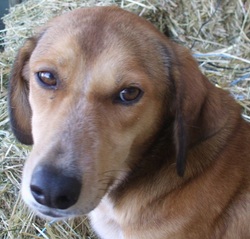 Lucy was one of the puppies of our neighbours dog. He tied to of his dogs up and left this one to roam freely. She decided she wanted to come to live with our dogs.


Lucy has been diagnosed with early stage Leishmania, Ehrlichia and a kidney problem.

Lucy died in 2013


---

NOT TO FORGET THE RESCUE CATS!

Puddy Cat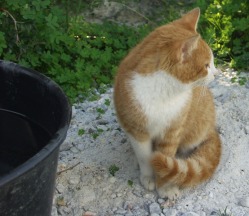 This ginger kitten was dumped at the church just up the road from our sanctuary in December 2010. He had obviously been a house cat and was very friendly. We took him down to the stable where we gave him a house to stay in and some food and water. But he was just too friendly with the donkeys and after being trodden on by mistake by Tessa, we had to make the decision to bring him to the house. He lives here with our other cat Benjamin and the dogs. He is such a character and has really taken to life in the house with us

---


DOGS WE HAVE RESCUED AND REHOMED

BEAUTY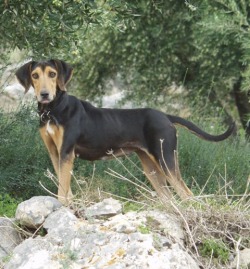 We saw Beauty in the mountains when we were on a picnic walk with some Americans. For the next week we wondered how she was and if she had survived the thunderstorms. She had and she made it down to the village where we heard her crying and rescued her from an abandoned building. She was very thin but otherwise seemed healthy. A beautiful hunting dog but we knew we could not keep her. With the help of PAWS and Myrtos Animal Project Beauty has found a wonderful home in Holland where she is much loved and looked after.
---
SCRUFF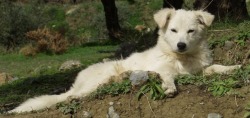 This white polar bear looking puppy arrived at our stable one Sunday morning. He had a thin rope around his neck which had grown into the skin. It was not possible to slide the blade of the knife underneath the rope. We had to cut it very carefully from the top. By that evening he had recovered from his ordeal and has become a beautiful friendly dog. He comes when we call him and just loves playing with the others.

Scruff now has a new home in the Netherlands where he runs on the beach and is very happy

---
Buttons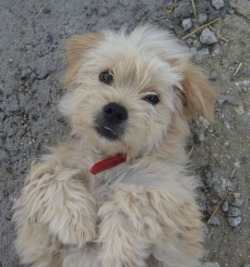 This little pet dog was dumped just by our sanctuary. We saw the truck driving away very fast but did not realise until it was too late that this little boy had been thrown out.

We gave him to a lady to foster and we believe she has now found a new home in the UK for him

---


DOGS Who have left this life and we miss greatly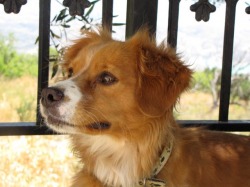 SPITHA

The first dog to join us. One day we were walking to our olive trees with two donkeys (George and Meli) This little red and white dog followed us all the way. She stayed with us all day whilst we collected olives and then returned to our house with us. She was about 6 months old and had only one ear (the other had been cut off – a tradition here). She soon became part of the family and loved her life, always wanting to play games with us and our visitors, especially children.

Spitha ate poison in June 2009 and we were unable to save her

We still miss her so much

---
Bella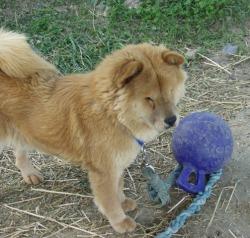 The third pet to be dumped with us in 6 weeks, (January 2011)This is a pedigree chow chow. She had recently had puppies and was still producing milk. The pups were nowhere to be seen. We were lucky to be able to find a great new home for her in a village close by with some friends of ours. They have renamed her Charlotte and we know she will be dearly loved and cared for

---